The Ozark Highlanders Pipe Band was formed in 1984 in Fayetteville, Arkansas by Founding Pipe Major Dr. Steve Wilson and Drum Major Ramon Hendricks. Since that time, the band has incorporated a broad background of talent, and established a reputation as one of the top entertainment groups in the Ozarks.

Highlander Highlights

1986 – The Ozark Highlanders are selected to be the ceremonial band for the
Arkansas Sesquicentennial celebration in Fayetteville.

1987 – The Highlanders win the Regional Championship, competing against
other pipe bands from the Central United States.

1990 – The Highlanders join the University of Arkansas Marching Band during
the Homecoming Halftime Show at Razorback Stadium and receive a
standing ovation.

1993 – One of the most unusual and memorable performances in the band's
history - inside the World's Largest Strip Mining Shovel.

1994 - The Ozark Highlanders are asked to perform for former British Prime
Minister Margaret Thatcher. Lady Thatcher is the featured speaker at
a convocation ceremony at College of the Ozarks in Point Lookout, MO.

2001 – The Highlanders are asked to perform for another convocation at The
College of the Ozarks, this time featuring former Secretary of State Colin
Powell.

2005 - Dr. Steve Wilson and Linda Jones were invited and performed with the
internationally famous Chieftains at the Walton Arts Center concert.
Founding Pipe Major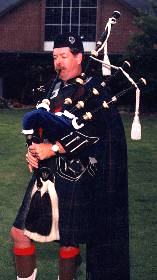 Dr. Steve C. Wilson